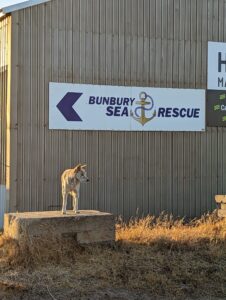 Each year, the vets at the Bunbury and Eaton Vet Clinics perform over 7500 consultation and administer over 9000 vaccines for the pets of Bunbury, Eaton, Treendale, and surrounds. From time to time we are asked by clients which other vets are available in the area.
We're never ones to shy away from being open and honest, and we want the pet owners of Bunbury, Eaton and Treendale to be as informed as possible so they can always make the choices that are best for them and their pet.
Here is a list of some of the vet clinics located in the Bunbury, Eaton, and Treendale regions. All of the clinics have a rating over 4.0 on google reviews.
Harradine and Associates
Located on Bussell Highway, Harradine and Associates work with both companion animals (cats, dogs, rabbits, etc) and horses. In 1994 the practice relocated to its current hospital premises on Bussell Highway. Further extensions were undertaken in 2007.
The practice was sold to Apiam Animal Health in 2022.
Dallyelup Vet Clinic
Located on Norton Promenade in Dalyellup, the Dallyelup Vet Clinic is linked to Harradine and Associate. Dr Tanya Rae has extra training in avian (bird) medicine and surgery, so we would advise bird owners to consider Dr Tanya for their bird's veterinary care.
Treendale Pet Medical
Opened in 2017, Treendale Pet Medical focus on the treatment of companion animals such as dogs and cats. They offer a range of services including reproduction services, orthopaedic and soft tissue surgery, imaging, and vaccinations.
Blair Street Vet
Blair Street Veterinary Hospital has been caring for companion animals and horses for over 30 years. Founded by Dr Alan McGregor, McGregor Veterinary Clinic (as they were originally known) opened its doors on November 22, 1981, just down the road from the present Clinic. In 1999, the practice moved to the current location.
Dr John Fulton joined the practice in 2006, became a partner in 2007, and became sole owner in 2012. In 2013, in recognition of the ownership change, the Clinic became known as Blair Street Veterinary Hospital.
Eaton Pet Vet
Opened in 2014, Eaton Pet Vet is located at 7 Millard Street in Eaton. Eaton Pet Vet offers services for companion animals as well as equine and farm animals. Eaton Pet Vet was sold to Vets Central Australia in 2022.
Petstock Vet Bunbury
Located within the Homemaker Centre in Bunbury, Petstock Vet Bunbury is focused on the treatment of companion animals such as dogs and cats.
When choosing which vet may best suit your needs, you may want to consider the following factors:
Location. Obviously, most people don't want to travel a long way to obtain treatment for their pet. Chosing a vet that is close to where you live is often a good start.
Species treated. Most clinics will commonly treat cats and dogs. If you have a more uncommon pet such as a bird, fish, or reptile, we would recommend calling vets in the local area to discuss their ability and confidence in treating these pets.
Overnight care. Does the vet provide overnight hospital services or an on-call service?
There can be pros and cons to different size clinics. Larger clinics often have more resources and a greater range of experiences, while smaller clinics often mean you see a familiar face each time you visit.
Apointment time. Do they offer appointment times which suit your lifestyle? If you need weekend or evening appointments, are they open when you are free?
Cost. As with many things in life, costs can vary depending on a number of factors. A vet should be able to give you a price on routine vet care such as vaccinations and sterilisations if you give them a call. It is also worth looking at whether clinics offer wellness programs and what payment facilities are available.
Extra services. Some clinics may offer additional services such as grooming, specialist visits, puppy schools, etc.
Recommendation. If you know people in your area with a pet similar to yours, I may be worth asking them for their recommendation. Online reviews are also valuable sources of information.
How do they make you feel? As with human health care, sometimes you'll find a doctor that you love and really "click" with, while other times they might not be a great match for you and/or your pet. It's worth spending the time to make sure you find the right vet to care for your pet.